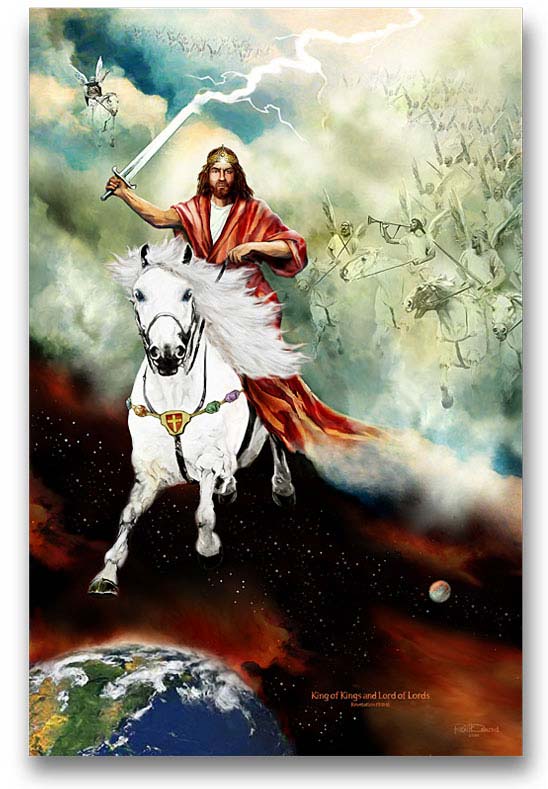 In worship I saw the Lord on His white horse in magnificent victory. I saw His sword flashing in the light and realized it came out of His mouth and remembered Rev. 19: "His name is The Word of God".
Rev. 19: 11-16
"And I saw heaven opened, and behold a white horse; and he that sat upon him was called Faithful and True, and in righteousness he doth judge and make war. His eyes were as a flame of fire, and on his head were many crowns; and he had a name written, that no man knew, but he himself.
And he was clothed with a vesture dipped in blood: and his name is called The Word of God.
And the armies which were in heaven followed him upon white horses, clothed in fine linen, white and clean.
And out of his mouth goeth a sharp sword, that with it he should smite the nations: and he shall rule them with a rod of iron: and he treadeth the winepress of the fierceness and wrath of Almighty God.
 And he hath on his vesture and on his thigh a name written, King Of Kings, And Lord Of Lords.
There is much to be learned from these verses, but what the Holy Spirit emphasized is the importance of God's Word.
The King of kings and Lord of lords is soon going to execute the threatenings of the written Word on his enemies. 
 
He conveyed to me that as we, the saints, are joined to His army, we have the sword of the Spirit, the Word of God in our mouths to counter every attack of the enemy, as well as the power of the blood of Jesus and the power of His Name as our weapons of warfare – always being victorious IN HIM!  In Christ we are more than conquerors here on the earth and we need to walk in the authority of His Name, the Word of God!
 
Romans 8: 35 "Who shall separate us from the love of Christ? shall tribulation, or distress, or persecution, or famine, or nakedness, or peril, or sword? As it is written, For thy sake we are killed all the day long; we are accounted as sheep for the slaughter. Nay, in all these things we are more than conquerors through him that loved us. For I am persuaded, that neither death, nor life, nor angels, nor principalities, nor powers, nor things present, nor things to come, Nor height, nor depth, nor any other creature, shall be able to separate us from the love of God, which is in Christ Jesus our Lord."
 
Perilous time are coming, but those who are walking in obedience to the Lord, whose hearts are His, dwelling in the secret place of the Most High, will be safe under the protection of His wings. (Ps. 91)
 
I was reminded of a Word and a vision that came forth during a meeting of intercessors recently:
 
"The Lord is fine-tuning His bride with the sound of His Word, which is like a tuning fork. (Then someone had a vision of a giant tuning fork).  His Word is the sound to which we should align ourselves, letting it reverberate through us and into every situation and through His Word He always leads us into triumph."
 
"Now thanks be unto God, which always causes us to triumph in Christ, and makes manifest the savour (fragrance) of His knowledge by us in every place."
 2 Cor. 2:14 -KJV
 
I heard:  "In the coming days it shall be our safeguard to be attuned to the Word in order to discern the slightest wind of deceptive doctrine."
 
OVERCOME FEAR
 
Then I heard,"Those who walk in fear shall not be able to stand in the days that are coming". 
 
It is recorded 366 times in the Bible that we should not fear.  When Joshua was about to enter into the promised land, God said to him three times, "Be strong and very courageous". He adds, "Do not be afraid, nor be dismayed for the Lord your God is with you wherever you go." (Joshua 1:9)
Fear, doubt and discouragement are partners and now is the time to get our house in order, doing some spiritual spring-cleaning.
 
Our strength is in the Lord and in the power of His might.  His Word is creative in power and the more we get saturated in the Word of God, and submitted in obedience to His Word, the more we get strengthened by it and can wield His sword with authority.
 
DO NOT EMPOWER THE ENEMY BY TESTIFYING OF HIS WORKS
 
Some years ago I was in a very negative situation and the Lord said very clearly to me, "Don't reiterate the negative and thereby empower the enemy."  Remember, fear also has a voice and by recalling the works of the enemy, you also empower fear to speak into your consciousness. What you say you SHALL HAVE!  Take heed of the RED LIGHT!
 
I was reminded of II Tim.1:7 – "For God has not given us a spirit of fear, but of love and of power and of a sound mind".
 
What we carry in our consciousness and in our unredeemed memory WILL come out of our mouths.  Therefore, let us ask the Holy Spirit to bring to mind those memories and impressions that have negative influences on our "now" consciousness and affect our belief system and inevitably cause obstacles in our race of faith.  Let the Lord bring redemption through His blood so that we can move on.
Our mouths should only bring forth what we hear the Father saying about a situation (John 14:10 & 24).  This of course leads us back to the secret place of intimacy in worship, where we hear His instructions and strategies and His Rhema Word to DECLARE over our difficult situations and cause it to SHIFT into alignment with His plumb line.
 
"Wherefore my beloved brethern, let every man be quick to hear, slow to speak, slowto wrath" – James 1:19-20
 
James is talking here about the taming of the tongue!
 
I heard someone saying recently that she is determined not to bring forth anything out of her mouth that is not revelatory.
 
It is amazing how quick people are to speak of destruction, accidents, attacks, and sickness and of all the works of the enemy.  In doing so we should realize that we give place to the enemy to continue his work.  Instead, we should not dwell on the negative but immediately rise up in the power of the anointing of the Holy Spirit, taking authority over the power of the enemy by binding it; then loosing God's Word over the situation in agreement of faith. The next step is the most important, namely to envision the victory and rejoice in the power of the Almighty!  Hallelujah!
 
THE BRIDE:  A COMPANY OF OVERCOMERS!
 
We need to align ourselves with those in the body of Christ who know their identity as overcomers.  We cannot align ourselves with the fearful and cannot expect their voices to be in agreement with us in prayer of faith.  When we come to God in prayer to move a mountain of obstruction and to annul the works of the enemy, we can only be in unity of "agreement" with those who believe that when they speak to the mountain is SHALL be removed.  Double-minded people shall not see victory in their situations, but to those who believe the Word of the Lord nothing shall be impossible!  Hallelujah!
 
God, in His fine-tuning of the bride of Christ, is shining His light now on all the "spots" on our garments.  Let Him wash it out with the power of His precious blood and let us get renewed in the spirit of our mind to KNOW what is that perfect and acceptable will of God in every situation. (Rom.12:2). Then speak forth His Word and become co-creative with Him, enjoying the victory in Christ!
 
Mark 11:22-24
"For assured I say to you, whoever says to this mountain, 'Be removed and be cast into the sea,' and does not doubt in his heart, but believes that those things he says will be done, he will have whatever he says.  Therefore I say to you, whatever things you ask when you pray, believe that you receive them, and you will have them."
 

To sum this up:  Can you envision yourself, being set apart to pray and worship, receiving God's Word in the Holies of holies (over a negative situation, a move of the enemy, over a country, etc), then get in agreement with His sound of victory in your spirit.  Now come into the unity of agreement (of faith) prayer with a BELIEVER and wield your sword of authority and KNOW – God said it, it is DONE!  RISE UP AS AN OVERCOMER!  It is part of your inheritance in Christ!
 
"And they overcame him with the blood of the Lamb, the word of their testimony and the fact that they did not love their lives even unto the death".  (Rev. 12:11)
 
 
Blessings
Elsabe
Agape Life Ministries
www.elsabebriers.com